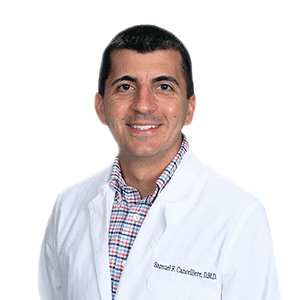 Dr. Sam Cancelliere was inspired to become a dentist by spending countless hours in his father's dental practice (Dr. John Cancelliere, founder of Dentistry at Veterans Park) when he was younger. Dr. Cancelliere boasted proudly, "I noticed that patients actually wanted to come into the office. They talked about my father as being soothing and compassionate. I have seen many dental phobias disappear under his care, with patients leaving his office with smiles on their faces!"
Having been raised in Pittsburgh, PA, Dr. Sam Cancelliere enjoys snowboarding, golfing, scuba diving, and has dabbled in the world of music as a music producer.

Dr. Sam Cancelliere received his Bachelor's degree in Biological Science at the University of Vermont and his Doctoral degree in Dentistry at the University of Pittsburgh. He is a member of the American Dental Association, Florida Dental Association, and the American Academy of General Dentistry.
At The Dentistry in Naples, we know what's important to you and we strive to provide our patients with personal, prompt, and gentle care. We provide a full-service, state-of-the art dental practice. We have had the pleasure of serving patients from Naples, Marco, Bonita, Ft. Myers, and Cape Coral to name a few cities here in Florida. In addition to general dentistry, we offer IV dental sedation dentistry and the latest technologies in implant dentistry, cosmetic dentistry, and restorative dentistry. Our exceptional and experienced staff, partner with our patients to provide the healthiest, most beautiful smiles dentistry can offer. From the moment you step into our practice, until the moment you complete treatment, we want you to be comfortable and relaxed.