No Pain No Fear Dentistry – welcome to The Dentistry in Naples. Dr. John and Dr. Sam Cancelliere provide Advanced Implant, Sedation, and Cosmetic Dentistry. We have been providing state-of-the art care in advanced implant, sedation, emergency and cosmetic dentistry for over 25 years. We are your No Pain, No Fear Dentistry.
At The Dentistry in Naples, we know what's important to you and we strive to provide our patients with personal, prompt, and gentle care. We provide a full-service, state-of-the art dental practice. We have had the pleasure of serving patients from Naples, Marco, Bonita, Ft. Myers, and Cape Coral to name a few cities here in Florida. In addition to general and emergency dentistry services, we offer IV dental sedation dentistry and the latest technologies in implant dentistry, cosmetic dentistry, and restorative dentistry. Our exceptional and experienced staff, partner with our patients to provide the healthiest, most beautiful smiles dentistry can offer. From the moment you step into our practice, until the moment you complete treatment, we want you to be comfortable and relaxed.
As your No Pain No Fear Dentistry, we specialize in treating our patients with the utmost care when it comes to their comfort. Dr. John Cancelliere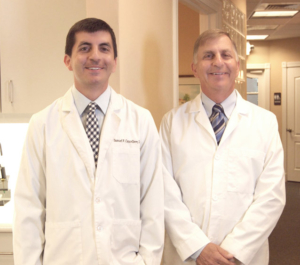 and Dr. Sam Cancelliere are experts in the art of making sure that their patients can come to our office knowing that we do our utmost to assure that you experience No Pain No Fear when you are under our care.
At The Dentistry in Naples, Dr. John Cancelliere and Dr. Sam Cancelliere will check you regularly – your dental health is our priority. Remember, we're your NO FEAR NO PAIN dentists, and we are a family practice that looks out for our patients as if they were our own family. If you are interested in scheduling a consultation, please contact our office today. Give Dr. John Cancelliere and Dr. Sam Cancelliere a call today at The Dentistry in Naples at 239-566-2422